Evenemang i Florens med omgivningar: detaljer
From 07 Januari 2014 to 10 Januari 2014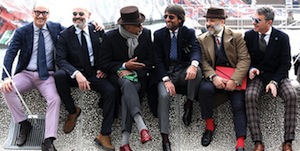 PITTI IMMAGINE UOMO 84
From January 7th to the 10th, 2014 Pitti Immagine Uomo will be held at the Fortezza da Basso in Florence for an international expo focusing on menswear and accessories and on new developments regarding men's fashions.

More than 1000 brands representing the contemporary lifestyle trends and the evolution of menswear: from tradition to evolution, from handmade items to high-tech and ultralight fabric for leisure wear, from the spirit of tailoring to creative workshop brands of the urban and sportswear segment.


83rd PITTI IMMAGINE UOMO
Florence - Fortezza da Basso
From 01/08/2013 to 01/11/2013


Info
e-mail info@pittimmagine.com
tel +39 055 36931
fax +39 055 3693200
www.pittimmagine.com/corporate/fairs/uomo.html


Nozio © 2013

Bakåt!