Evenemang i Florens med omgivningar: detaljer
From 08 November 2014 to 08 November 2014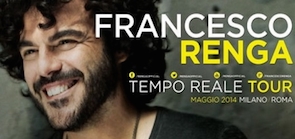 FRANCESCO RENGA in tour
The splendid voice of Francesco Renga at the Teatro Verdi in Florence. Classic pop music that affirms the essence of all the hits of a successful artist. Accompanied by an excellent band, with new songs from his most recent album, a stalwart in the Italian top ten rankings. Don't miss it!

FRANCESCO RENGA Tempo Reale Tour
SATURDAY 8 NOVEMBER 2014
TEATRO VERDI
FLORENCE

Info: www.ticketone.it


Nozio © 2014

Bakåt!